John C. Malone
Chairman of the Board
Dr. John C. Malone is Chairman of the Board of Liberty Media Corporation, Liberty Broadband Corporation and Liberty Global plc. From 1996 to March 1999, when Tele-Communications, Inc. (TCI) merged with AT&T Corp., he was Chairman and Chief Executive Officer of TCI. Previous to that, from 1973 to 1996, Dr. Malone served as President and Chief Executive Officer of TCI. He currently serves on the Board of Directors for Qurate Retail, Inc., Warner Bros. Discovery and Charter Communications, Inc. Additionally, Dr. Malone is Chairman Emeritus of the Board for Cable Television Laboratories, Inc.
Born in 1941 in Milford, Connecticut, Dr. Malone was a Phi Beta Kappa and merit scholar at Yale University where he obtained a Bachelor of Science in Electrical Engineering and Economics in 1963. He also received a Master of Science in Industrial Management from Johns Hopkins in 1964 and a Doctor of Philosophy (Ph.D.) in Operations Research from Johns Hopkins in 1967. He has received two Honorary Degrees for Doctorate of Human Letters; the first from Denver University in 1992 and the second from Johns Hopkins University in 2012.
Dr. Malone began his career in 1963 at Bell Telephone Laboratories/AT&T in economic planning and research and development. In 1968, he joined McKinsey & Company and in 1970 he became Group Vice President at General Instrument Corporation (GI). He was later named President of Jerrold Electronics, a GI subsidiary.
He served as Director of the National Cable Television Association (NCTA) from 1974 to 1977 and again from 1980 to 1993. During the 1977-1978 term, Dr. Malone was the NCTA's Treasurer.
In 1983, Dr. Malone received the NCTA Vanguard Award, one of the highest honors in the cable television industry. He has received many other awards and honors which include: TVC Magazine Man of the Year Award - 1981; Wall Street Transcript's Gold Award for the cable industry's best Chief Executive Officer - 1982, 1985, 1986 and 1987; Wall Street Transcript's Silver Award in 1984 and 1989; Women In Cable's Betsy Magness Fellowship Honoree; University of Pennsylvania Wharton School Sol C. Snider Entrepreneurial Center Award of Merit for Distinguished Entrepreneurship; American Jewish Committee Sherrill C. Corwin Human Relations Award; Communications Technology Magazine Service and Technology Award; Bronze Award - 1993 Financial World CEO of the Year Competition; The Hopkins Distinguished Alumnus Award in 1994 and in 2004 the Hopkins Medal, the school's highest award; Steven J. Ross Humanitarian Award from the UJA Federation New York in 2016; National Western Stock Show's Citizen of the West in 2017. He is also recognized as a Yale Sterling Fellow (Harkness Circle).
Gregory B. Maffei
President & Chief Executive Officer
Greg Maffei – oversees the Liberty family of companies as they compete in the digital mobile era. Liberty's stocks have consistently outperformed the indexes and peers. Liberty Media ranked #8 in Fortune's 2022-2023 World's Most Admired Companies in the Entertainment Industry.
Maffei serves as President and CEO of Liberty Media Corporation, which owns media and entertainment businesses, including subsidiaries Formula 1 and the Atlanta Braves, and interests in SiriusXM and Live Nation Entertainment. He is President and CEO of Liberty Broadband Corporation, which consists primarily of a 26% stake in Charter Communications and subsidiary GCI. Maffei also serves as Chairman and CEO of Liberty TripAdvisor, which holds a controlling interest in Tripadvisor.
In addition, Maffei serves as Executive Chairman of Qurate Retail, Inc., which owns digital commerce businesses, including subsidiaries QVC, HSN and the Cornerstone Brands. Maffei also serves as Chairman of the Liberty-related companies Live Nation Entertainment, SiriusXM and Tripadvisor, and as a Director of Charter Communications and Zillow.
Prior to joining Liberty in 2005, Maffei served as Co-President of Oracle, Chairman and CEO of 360networks, and CFO of Microsoft. He has also served as a Director of Barnes & Noble, Citrix, DIRECTV, Dorling Kindersley, Electronic Arts and Starbucks and was Chairman of Expedia and Starz.
Maffei is a member of the Council on Foreign Relations. He has an MBA from Harvard Business School, where he was a Baker Scholar, and an AB from Dartmouth College where he formerly served on the Board of Trustees.
Derek Chang
Derek Chang has been a director of Liberty Media Corporation since March 2021. He is an accomplished global media, sports and entertainment executive and has led organizations during various stages of growth from start up to established corporate entities. In addition to his operating roles, he has overseen corporate development and investments for a range of companies.
Chang is currently the Executive Chairman of EverPass Media, a joint venture between the NFL and RedBird Capital Partners. He also serves on the Board of Playfly Sports and previously served on the Boards of the Professional Fighters League (PFL), ISOS Acquisition Corp which merged with Bowlero in 2021, Vobile Group from 2020-2021 and Starz after its public spin-off in 2013.
Chang was formerly the CEO of Friend MTS, a provider of content protection and anti-piracy services. Prior to that he was the CEO of NBA China and spearheaded the NBA's effort to expand its presence as the preeminent foreign sports league in the region while leading a staff based in the NBA's Beijing, Shanghai, Taipei and Hong Kong offices. Before joining the NBA, Chang was the Head of International Lifestyle Channels at Scripps Networks Interactive, based first in Singapore and then London. Prior to Scripps, Chang was Executive Vice President of Content Strategy and Development at DIRECTV where he oversaw all content acquisition and production. He previously held senior executive positions with Charter Communications, the YES Network and TCI Communications.
Chang holds an MBA from Stanford University and a bachelor's degree in history from Yale University. He was named one of Cablefax Magazine's "Top 100 Executives in Cable" and one of the "50 Most Influential People in Sports Business" by SportsBusiness Journal. Chang is also a member of the prominent Chinese American group, Committee of 100 (C100), and is on the Advisory Board of Row New York.
Evan D. Malone
Evan D. Malone – A director of Liberty Media since August 2008. Dr. Malone has been an engineering consultant for more than the past five years. Since January 2008, Dr. Malone has served as the owner and manager of a real estate property and management company, 1525 South Street LLC. During 2008, Dr. Malone also served as a post-doctoral research assistant at Cornell University and an engineering consultant with Rich Food Products, a food processing company. Dr. Malone has served as co-owner and director of Drive Passion PC Services, CC, an Internet café, telecommunications and document services company, in South Africa since 2007 and served as an applied physics technician for Fermi National Accelerator Laboratory, part of the national laboratory system of the Office of Science, U.S, Department of Energy, from 1999 until 2001.
Larry E. Romrell
Larry E. Romrell – A director of Liberty Media since May 2006. A director of Old Liberty from March 1999 to May 2006. Mr. Romrell served as an Executive Vice President of TCI from January 1994 to March 1999. Mr. Romrell is a director of LGI.
Brian M. Deevy
Brian M. Deevy – has been a director of Liberty Media Corporation since June 2015. He previously served as the head of Royal Bank of Canada (RBC) Capital Markets' Communications, Media & Entertainment (CME) Group. Mr. Deevy was responsible for strategic development of the CME Group's business, which included mergers & acquisitions, private equity and debt capital formation, and financial advisory engagements. He also served as Chairman and Chief Executive Officer of Daniels & Associates, the investment banking firm that provided financial advisory services to the communications industry until it was acquired by RBC in 2007. Prior to joining Daniels & Associates, RBC Daniels' predecessor, Mr. Deevy was with Continental Illinois National Bank. Mr. Deevy has served as a director of the Daniels Fund since 2003, and has been a Director of the U.S. Olympic and Paralympic Foundation since 2016.
Andrea L. Wong
Andrea Wong – has served as a director of our company since September 2011. Ms. Wong previously served as President, International Production for Sony Pictures Television and President, International for Sony Pictures Entertainment. She also was President and CEO of Lifetime Entertainment Services and served in a variety of roles with ABC, Inc. Ms. Wong currently serves as a director of Qurate Retail, Inc., Hudson's Bay Company, Hudson Pacific Properties, Inc. and Social Capital Hedosophia Holdings Corp. She also serves on the advisory boards of several media and entertainment societies and organizations.
Robert R. Bennett
Robert R. Bennett – A director of Liberty Media since May 2006. A director of Old Liberty from September 1994 to May 2006. Chief Executive Officer of Old Liberty from April 1997 to August 2005. President of Old Liberty from April 1997 to February 2006. Previously, Mr. Bennett held various executive positions with Old Liberty since its inception in 1990. Mr. Bennett is a director of Warner Bros. Discovery and HP Inc.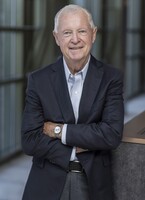 M. Ian G. Gilchrist
M. Ian G. Gilchrist – has been a director since July 2009. Mr. Gilchrist was a Managing Director of Citigroup/Salomon Brothers from 1995 until his retirement in July 2008. Prior to 1995, Mr. Gilchrist was a Managing Director of CS First Boston Corporation and was a Managing Director of PaineWebber Incorporated.